Yaesu FT 736 R - All mode dual band satellite radio (#10)
With the 6m, 2m & 440 modules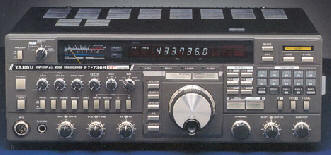 The Yaesu FT-736R all-mode transceiver incorporates up to four optional band modules covering the 50, 144, 220, 430, 440 and 1200 MHz amateur bands. The FT-736R is supplied standard with 2 meters and 440 (at 25 watts output). Standard modes are SSB, CW and FM. This radio has operating conveniences usually found only on HF transceivers, such as IF shift, IF notch, noise blanker, all mode VOX and three-speed selectable AGC. The memory system includes 100 general purpose memories, 10 full duplex cross-band memories and 1 global call channel, all of which store mode and frequency.

All Mode, 100 Memories, IF Notch, IF Shift, Hand Mic, Dual Digital VFO's, Semi Break-in CW, Built in Power Supply, 10 Duplex Memories


Drake TR270 FM - Transceiver 2m, 440 Receive (#9)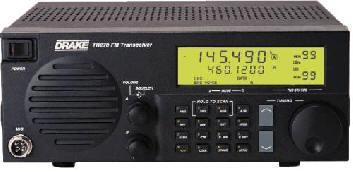 FM Only, Satellite, Doppler shift, cross band, full duplex.
TX: 144-148 MHz
RX: 136-174 / 420-470 MHz



Kenwood TM 271A - 2m 60 watts (#8)
2m FM Mobile 60 watts with NOAA Alert



Frontiers are not for the weak. It takes a rugged vehicle to meet the challenges of the wilderness, and Kenwood's new TM-271A is tough. This compact, MIL-STD-compliant transceiver deliver powerful mobile performance and such advanced features as multiple scan functions and memory names, as well as NOAA Weather Band & emergency alert reception*. On or off the road you can always enjoy the sophistication of high-quality audio. Illuminated keys and a large LCD with adjustable green backlighting for easy operation day or night help make the TM-271A the ideal companion for all your travels.

ADI 247 -

30 watt 220 FM transceiver (#7)

TX: 222-225 MHz
RX: 219-228 MHz

Icom IC 281H - 50 watt 2m FM Transceiver, 440 RX (#6)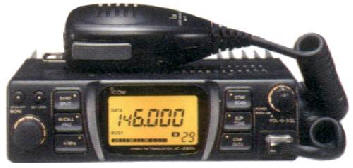 2m mobile transceiver
RX: 144-148 MHz; 440-450 MHz
TX: 144-148 MHz
Output power: 50 W
Modes: FM
Receiver sensitivity: 0.16 µV (FM, 12 dB SINAD)

CTCSS encode standard, CTCSS decode (tone squelch) optional
Number of Memory Channels: 60 regular, 2 call, 10 scratch pads and 12 scan edges.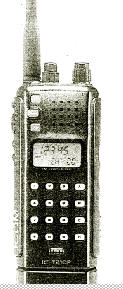 Icom IC T21A - 6watt 2meter, 440 receive (#5)

2 meter single band handheld transceiver
RX/TX: 144-148 MHz
RX only: 440-450 MHz
Output power: 6 W
Modes: FM
Receiver sensitivity: 0.16 µV (FM, 12 dB SINAD)
CTCSS encode standard, CTCSS decode (tone squelch) optional





Alinco DJ-G1 - 2m transmit, 440 receive (#4)

The Alinco DJ-G1T is 2 meter HT with 70 cm band receive capability. It comes with a large easy-to-read LCD display, easy-to-operate keyboard and 80 memory channels. One of its most striking features is a channel scope. It displays channel activity on 7 different frequencies. It can display activity in VFO mode or in Memory mode. Power output is 5, 1, 0.2 watts. Receive range is: 108-174 and 440-450 MHz. Other enhancements include: six scan types, illuminated keypad, auto dialer, auto power off, priority watch, beep on/off and 2 color RX/TX LED.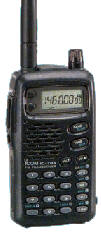 Icom IC-T8A - 6m, 2m, 440 Triband Transceiver (#3)

The ICOM T8A tribander covers 50, 144 and 430 (440) MHz. The T8A even picks up the FM broadcast band with WFM mode. Other refinements include: Auto Repeater Function, Water resistant construction allows safe operation in wet conditions. Also meets MIL-STD 810 for shock and vibration. RF Output is selectable at 0.5 or 5 watts.







ADI AT 200 - HT 2m (#2)


Orca Tait - HT programmable only 136-176 MHz (#1)



The FT 736R and Drake TR270 FM satellite / full duplex radios have been tested and found to transmit and receive in the appropriate ranges. No other radios listed have been tested. All radios are sold as-is and without implied warranty. Some Radios are in like-new condition, a few are well worn. For HT radios, please assume batteries need to be replaced, and charger not included. Photos in this listing are stock and not of the actual items. A few items have a reserve.