The 2006 Set will be held in Frankenmuth. This is an exciting time for ham radio operators; and a great chance for us to interact with government agencies and emergency services. Agencies from all over Saginaw County, plus the Coast Guard, FBI and other federal agencies will be participating in this simulated emergency. We will be testing the new 220 MHz voice/packet network, Amateur Television, and Transportation Communication methods. Please contact the Amateur Radio EC, Carl DeMeritt (KC8YVI) if you are interested in participating!

September 16, 2006 - The packet Training was successful! Ron (KC8YVF) lead the group. With two packet stations set up in the Conference Room, Eleven (11) ham radio operators practiced using the equipment. Packet radio lets hams send text messages and files much faster than by voice or Morse code. Thanks to all the participants -- we are looking forward to seeing you at the next SET training session!



September 27, 2006 - Ron (KC8YVF) conducted a meeting describing the 2006 Saginaw Simulated Emergency and how to participate. The original Eleven, plus hams from Frankenmuth and Flint attended the meeting. Initial Assignments were made, but there are still good jobs to fill. Additional packet training was provided to those that could not attend the original packet training. The October 4th meeting will be a repeat of the this meeting.
October 12, 2006 - The big day. Everyone met in the pre-assembly area in the North Bronner's Parking lot, in Frankenmuth. Police cars, fire trucks, ambulances, the Red Cross, Ham Radio operators, the Military, and other organizations arrived. An hour or so later, many were dispatched to the Staging area, and then to the incident scene. Carl (KC8YVI) worked with the EOC/CRC commanders and Ron (KC8YVF) managed the incident scene for the Ham Radio operators.
The main Ham Radio features we tested were:
The 220 Hospital Data Network

Amateur Television (on-scene video relayed to the EOC)

Network operations

APRS Vehicle Tracking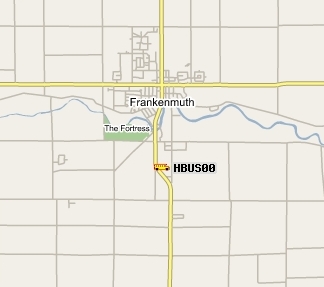 APRS Vehicle Tracking
By using a portable GPS / APRS tracking unit (constructed by Keith (N8XD)) we were able to track the location of a bus carrying simulated incident victims to the hospital. The tracker was setup and configured by Dave (N8ERL). The GPS unit was taped to the back window, and a mag-mount antenna was attached to the roof of the bus. As the bus moved, it relayed its position through APRS to a nearby IGATE operated by Ron (KC8YVF). Find-u (www.findu.com) was used by radio and non-radio operators to view the location of the bus.